Voice Coaching and Tuition
Mel Churcher offers voice and acting coaching to anyone in the acting profession or to anyone who is serious about entering into it. She has experience in helping with both screen work and theatre performance, and she fuses acting with voice work. No matter at what level you are at, Mel can help to take your work further.
You can visit Mel Churcher's main website to find out more information about her tuition.
Mel coaches actors but she also works with presenters, business people, lawyers, politicians and anyone else who has to cope with the media. She offers coaching on a one-to-one basis or via workshops. Private teaching can be arranged in Central London and Mel also works internationally.
Mel does private one-to-one coaching in a London studio.
She also runs workshops in London, Pinewood and internationally.
Details and dates of forthcoming workshops can be found on the NEWS page of www.melchurcher.com
You are unique and every role must be rooted in you – but with the preparation that makes every role you play specific and unique as well.
YOU – as if you were… (Stanislavski)
A part of you has to stay five years old and believe…make-believe.
Part of my approach is to use physical work to provide muscle memories. This makes your imaginary world specific and real to you - it gives you the ammunition to trust the work and be alive in the moment. Your work must be as rich and vivid as life – and your role needs to live.
Confidence is all important – I work on relaxed breathing, helping you feel free and comfortable in your own body, and to trust your spontaneity.
Above all – there must be joy in the work.
International Acting and Voice Coach
Mel runs regular workshops at the Actors Studio, Pinewood Studios. www.actorsstudio.co.uk. These 5 day workshops culminate in the shooting of two scenes for a professional showreel, which Mel directs. Mel also runs regular screen acting and voice workshops at The Actors Centre, London. www.actorscentre.co.uk.
Mel's voice and acting coaching is very personal. Mel looks for the right key to unlock your potential, solve your problems and meet your challenges. Mel's background as an actor gives her empathy with the performers she works with, her directing skills unlock the text, and her technical knowledge increases your understanding of your craft.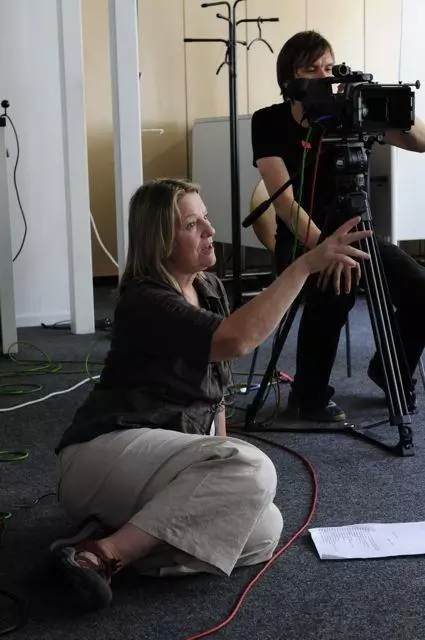 As more and more actors are required to self tape their auditions, a knowledge of camera work becomes more crucial.
The media has become a powerful tool in the lives of politicians and business leaders. Not only are they required to speak with confidence to large gatherings, but they also need to master the skills of dealing with cameras and microphones.
If you would like any more information about Mel's in-depth classes or you would like to make a booking, feel free to get in touch, I will be happy to answer any questions you may have. For news about upcoming workshops see the NEWS page for details.